CSC is a family-owned manufacturer and distributor of corrugated sheets and 100% recycled medium. Our national network of sheet feeders provides over 10 billion square feet of sustainable packaging solutions to our customers all while delivering world-class service and quality.
Service
& Solutions
At CSC, we pride ourselves on exceptional service, best-in-class quality, innovative technology, and quick turnarounds. Our team is dedicated to creating corrugated packaging solutions tailored to meet the unique needs of the customer.

During your very first interaction with CSC, you will find our employees to be knowledgeable, friendly, and most importantly, dedicated to exceeding your expectations. Our teams work together to deliver the highest level of service possible to our customers. Here are some things you can expect as a customer of CSC: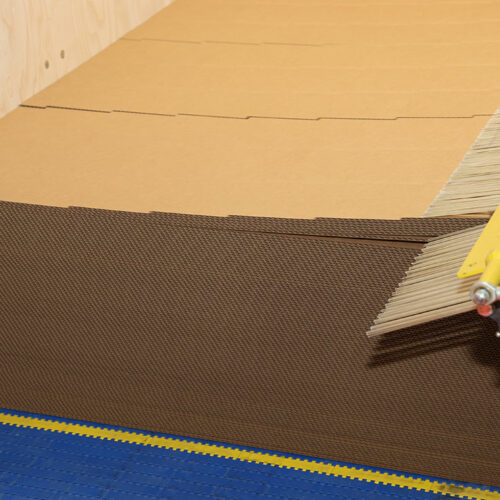 Our Commitment to Customers
Access to our online portal, CSCLive, which provides full visibility and control of orders from creation to delivery

Fast turnaround – 24 hours or less for standard board grades and consistent on-time delivery

Low minimum order quantities

Customizable board and flute options

Cost reduction and efficiency improvement initiatives, including Just-in-Time (JIT) manufacturing and EDI (Electronic Data Interchange) communication

TAPPI certified lab offering a variety of industry standard certifications and testing capabilities
Inventor of the Corrugated
Sheet Feeder Concept
An entrepreneur and visionary, our founder Richard (Dick) Van Horne Sr. saw the emerging need for cost effective, high-quality corrugated sheets early, during a time when sheets could only be bought from integrated box plants. To the sheet plants at that time, and clearly still today, continuity of supply was critical to their success and growth. They finally had a source of sheets from a supplier who was not a competitor. In the 1980's, Dick was quick to provide performance packaging that met the newly approved ECT standards. Dick personally took the risk to invest in a building and corrugator to produce exclusively sheets for independent sheet plants in the upper Midwest. Hence, Corrugated Supplies Company was born and today maintains the same vision of serving sheet plants from many manufacturing locations in the US.
Our Leadership Today
John Potocsnak started his corrugated career in 1980 at Traub Box in Cleveland, Ohio, under the leadership and mentorship of David Simon. John started at Traub as plant engineer and worked his way up to VP of Operations. After 8 years at Traub, John went into selling corrugators for Simon Container Machinery. At Simon, John expanded his knowledge, and moved to England where he ran his first sheet feeder for Windrush (a joint venture with Smurfit and MacMillan Bloedel). John spent 4 years in England turning around the Windrush location during England's worst recession since the 1920's.
After England, John moved back to the US and continued his career at CorrRock, a box plant outside of Cincinnati, Ohio. At CorrRock, John and two others developed the Big Mac™ box for McDonalds™, and became the original "MacDaddy." Following this, John went back to the sheet feeder world and became GM for BardCorr in Guthrie, KY and Pulaski, TN. John spent the next 3 years working with the teams at both locations creating a positive work culture and developing strong teamwork.
From BardCorr, John spent the next couple of years as a consultant for JTA (John Tries Anything). Staying sold out kept John busy, but it wasn't until meeting Rick Van Horne at Corrugated Supplies, that John knew he found his "home." At the time, CSC was partners with the Jack Schwarz in CeCorr, a sheet feeding venture. In 1998, CSC sold its interest in CeCorr to Georgia Pacific while keeping its original location in Bedford Park, IL. Over the next 20+ years, John has grown CSC from a single location with two corrugators to 11 corrugators in 8 locations across the country and a 100% recycled medium mill in Alsip, Illinois. While John continues to grow and lead CSC, he has used his success to further his passion for philanthropy.
Since 1964
CSC Through the Decades
1964

S. Richard Van Horne Sr. develops the first sheet feeder concept, opening Corrugated Supplies Co. (CSC)

1996

CSC launches color linerboard, introducing The Colors of VanCraft

1999

CSC Bedford Park: Breaks ground on a new 240,000 sqft headquarters

2000

CSC Bedford Park: Installs new corrugator with inline flexographic printing capabilities

2002

John Potocsnak takes controlling ownership of CSC

2003

RusCorr: CSC expands for operation in Cullman, AL

2003

80% of our 500 daily orders are received through our exclusive software, CSC Live

2005

CSC Indiana: Expands for operation in New Haven, IN

2006

CSC adds second corrugator at its Bedford Park location

2009

CSC adds fanfold capability at its Bedford Park location

2011

CSC Atlanta: Expands for operation in Conyers, GA, with inline flexographic printing and automated fanfold capabilities

2013

CSC Atlanta: Second corrugator begins production

2014

CSC Indiana: Second corrugator begins production, with inline flexographic printing and automated fanfold capabilities

2015

CSC acquires the former FutureMark paper mill in Alsip, IL, now Alsip MiniMill

2016

Alsip MiniMill begins producing 100% recycled corrugated medium from converted white paper mill

2018

RusCorr II: Expands for operation in Harrisburg, AR, with inline flexographic printing and automated fanfold capabilities

2019

CSC Pennsylvania: Expands for operation in Hazleton, PA, with inline flexographic printing and automated fanfold capabilities

2020

CSC expands capacity by replacing 98" corrugator with 132" corrugator

2021

CSC Missouri: Expands for operation in Bridgeton, MO, with inline flexographic printing

2022

CSC Ft. Worth: Expands for operation in Ft. Worth, TX with inline flexographic printing and fanfold capabilities
Now: Thinking Forward
CSC continues to make efforts to expand its reach in search of new locations and national expansion.